Program Associate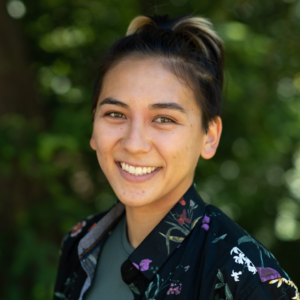 As Program Associate, Dylan (they/them) provides Justice Outside's suite of programs and alumnx activities with logistical support, in-field programmatic support, recruitment and outreach efforts, and collaboration on programs.
Dylan is a mixed queer environmental educator, artist, and adventurer who strongly believes "you can be more than one thing!" They center anti-colonial praxis as the path towards a socio-environmentally just future, and consider outdoor engagement and education to be direct movement building to that end. Their work has included facilitating community and mentorship for college students of color in the environmental field, empowering youth-leading-youth in Scouting, and engaging in genuine self-work. They prioritize compassion, creativity, humility, and humor in all that they do.
Over the past few years, they've sailed in the Southern Pacific, broke their nose playing rugby, disowned the gender binary, graduated from UC Berkeley with a B.S. in Society & Environment and a minor in Global Poverty & Practice, and once wrote a stirring folk ballad in memory of a hedgehog they found.
They have deep love for slow hiking, solo time, fire ecology, queer nature, roadtrips, and running water. They aspire to a life lived by the season, and facilitating high adventure leadership development for queer and neurodivergent youth and adults.
To contact Dylan, email them at dylan@justiceoutside.org.