Board Member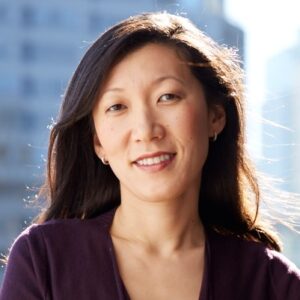 Esther Kim (she/her) is the Founder and Principal Consultant of Esther Kim Consulting LLC, helping organizations achieve greater social impact. Since 2014, her consulting practice has provided organizational development, strategic business planning, program design, and advisory services, all through a socioeconomic and race equity lens. Esther's approach connects strategy, operations, and organizational change leadership, balancing visionary aspirations with real-life constraints; she firmly believes that a strategy is only as good as the strength of the people, systems, culture, and resources in place to make it happen.
Esther works with an intentionally-diverse mix of community-based nonprofits, intermediaries, philanthropy, and other social-sector institutions. She is a Capacity Coach with The LeadersTrust, formerly known as the Haas Jr Fund's Flexible Leadership Awards program, and a Coach with Edna McConnell Clark Foundation's PropelNext program.
Prior to launching Esther Kim Consulting in 2014, Esther served in leadership roles for over 8 years at REDF, a California venture philanthropy nonprofit dedicated to creating jobs and pathways for individuals facing barriers to employment. Esther is an experienced consultant across sectors; prior to REDF, she spent four years advising Fortune 500 companies as a strategy consultant with McKinsey & Company. She began her career as an economic and environmental consultant, working with utilities, government agencies, and international NGOs on renewable energy technology and remediation-related projects.
Esther holds a Bachelor's and two Master's degrees from Massachusetts Institute of Technology in Environmental Engineering and Technology Policy, with a focus on renewable energy. Esther proudly embraces her Korean-American heritage; born in South Korea, she immigrated to the US as a child and is now a US citizen.
Esther grew up in the East Coast, but has spent the past 20 years in San Francisco, CA, where she currently resides with her husband and daughter. In her free time, Esther enjoys snowboarding, backpacking, rock climbing, road cycling, singing along to her ukulele, playing word puzzles, and traveling the world.