Director of Communications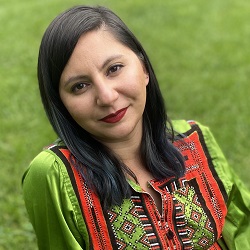 Noorjahan (she/her) is the Director of Communications at Justice Outside. She grew up in Kabul, Afghanistan where tall mountains surround the city. Some of her earliest memories are of hiking up and down a hill with her dad and siblings and walking through the trees that lined Kabul University's campus. Ever since, being outdoors surrounded by hills, trees, birds, and water, has felt like a prayer.
For the past decade, Noorjahan has helped nonprofits dedicated to making the world safer for marginalized and invisibilized members of our global community tell their story. At the Young Center for Immigrant Children's Rights, she led the communications department supporting the organization's policy advocacy and development goals. At Women for Women International, she helped tell the stories of women around the world who are building their lives and fighting inequity and patriarchal violence.
In her spare time, Noorjahan enjoys gardening and caring for her houseplants, plays with her pup Suki, and explores new hiking trails around the DC area.