Director of Grantmaking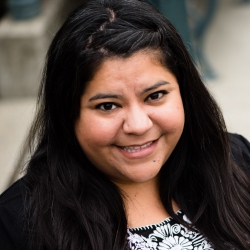 Rena Payan (she/her) is tasked with working toward equity and representation in the outdoor field by supporting young adults from diverse backgrounds through training that will develop them into outdoor leaders, stronger community advocates, and more confident stewards of the Earth.
Having grown up in the Central Valley of California, Rena was surrounded by the outdoors, but did not find her passion for outdoor education and youth development until she worked at Pathfinder Ranch in the San Bernardino National Forest. During her time at Pathfinder, Rena worked as an assistant horse wrangler, outdoor educator, high ropes facilitator, and occasional mad scientist, ultimately finishing her years there as the medical director for their outdoor education school and summer camp programs. Following her mountain life, Rena moved to the Bay Area by way of Montana and settled in San Francisco, where she worked as the Teen Programs Coordinator at the Richmond Village Beacon. While at the Beacon Rena developed and supported afterschool programs that served over 200 high schoolers a day. During the summer Rena created and ran "Venture Out", an outdoor program for high school and middle school youth that took them to Point Reyes to backpack and explore the national shoreline.
Rena currently volunteers with Bay Area Wilderness Training as an instructor and Board member. She is also a graduate from the California School Age Consortium's (CalSAC) Leadership Development Institute and enjoys every chance she gets to go outside.
To contact Rena, send her an email at rena@justiceoutside.org.