Operations Associate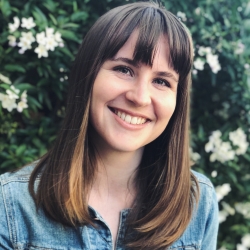 As the Operations Associate, Sierra (she/her) supports Justice Outside's grants management, program logistics, communications and outreach efforts, and collaboration of all organizational activities.
Sierra grew up in the East Bay Area and was privileged enough to spend her childhood hiking, camping, and riding horses with her family. These experiences allowed her to develop a deep connection and appreciation for nature that she now strives to share with others.
Sierra began her career in the outdoor industry as the Community Programs Intern at the Irvine Ranch Conservancy, while earning her BA in Social Ecology and Urban Studies at UC Irvine. She went on to work with the Livermore Area Recreation and Parks District, renewing and enhancing urban streams and riparian habitats in the Livermore-Amador Valley while encouraging community members to connect with the arroyos flowing through their backyards.
Most recently before joining the team at Justice Outside, Sierra worked as a Youth Programs Coordinator with the National Park Service. There she enjoyed collaborating with local school districts and non-profit organizations to provide educational and career opportunities for high school-aged youth in the field of environmental science and stewardship. Witnessing the transformative power of the outdoors on youth has inspired Sierra to continue her work creating equitable access to the outdoors for all.
In her free time, Sierra enjoys hiking through the Bay Area's open spaces with her corgi Guinness, backpacking through the Sierra Nevada mountains, and rock climbing. When not outdoors, she can usually be found cooking or attempting to propagate a new plant.
To contact Sierra, please email her at operations@justiceoutside.org.