Moving towards Racial, Environmental, and Philanthropic Justice
At our November 10, 2021 virtual event, we welcomed you, our Justice Outside community, to join us in conversation. We gathered with some of our closest supporters and partners to explore what's working and what's needed as we work towards racial justice in both philanthropy and the environment. We were honored to feature the powerful work our grantees are doing, and we are so glad that so, so many of you joined us that day.
Forging a Liberated Path featured leaders of three of our grantee programs, who shared their firsthand successes and challenges on the ground. We heard from:
Nikki Pitre from Center for Native American Youth's Ambassadors for Land Conservation. In the Ambassadors' inaugural cohort, Native youth and young adults representing Navajo, Hopi, San Carlos Apache, Hualapai, and Tohono O'odham communities came together to protect and preserve their ancestral homelands, including the Grand Canyon, while developing personal leadership skills and fostering community with other Native youth.
Lyrica Maldonado from Uplift Climate. Lyrica spoke to their program focuses on training and connecting youth in the greater Southwest region to develop regenerative, autonomous, and frontline communities organizing in the face of climate disaster.
Savannah Smith from Sea Potential, which provides interactive educational opportunities to illuminate pathways in the field of marine science for youth that are Black, Indigenous, and People of Color. They hope to inspire the next generation of culturally competent scientists and citizens, who will address marine conservation and environmental issues disproportionately affecting communities of color.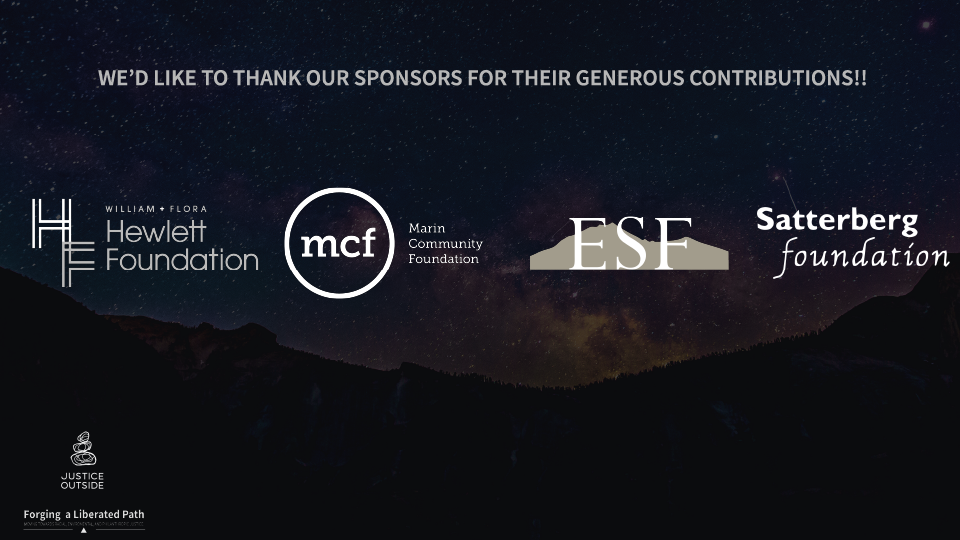 We offer our deep gratitude to our event's North Star sponsors, Environmental Stewardship Fund, Marin Community Foundation, Satterberg Foundation, and William & Flora Hewlett Foundation. And we also send out our appreciation to our Trailhead and Compass sponsors: the Pisces Foundation, REI Co-op, Northlight Foundation, and Ten Strands.
We also shared some big news at our event about the extraordinary growth of our Liberated Paths Grantmaking Program. Looking back at our inaugural year in 2020, we awarded nearly $340,000 to 17 grantees. This year, thanks to our current and new funders, we are excited to announce the expansion of our program to California and awards totalling $1 million to 52 grantees.
But that's not the only good news. In 2022, Liberated Paths will be coming to the East Coast! In addition to our grantees in the Western region of the U.S., we anticipate partnering with approximately 30 grantees on the East Coast. We'll be centering our work in the Delaware River watershed, which includes parts of Pennsylvania, Delaware, New Jersey, & New York. We are very grateful to the William Penn Foundation, whose lead support is making this new geographic expansion possible.
For those who weren't able to join us live, we offer the recording below, as well as this transcript, both of which are excerpts of the full event, featuring the grantee panel plus Kim Moore Bailey's remarks.
Justice Outside envisions a just world where Black, Indigenous, and Communities of Color experience safety, health, and abundant joy in the outdoors and with each other. Now entering its second year, our Liberated Paths Grantmaking Program provides financial support and capacity-building to grantees working at the intersection of racial justice and the environmental sector. Liberated Paths shifts resources to programs that are rooted in Communities of Color, with leaders that have the lived experience to understand what approaches will work the best for their communities. We invite you to join in to this work as a funder, supporter or ally. For more information, contact Robert Sindelar at robert@justiceoutside.org.