Program Assistant – South Bay cohort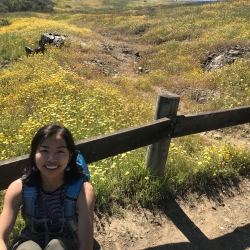 Veronica Bao Thao (she/her/hers) is thankful to be able to support inclusive outdoor leadership with the participants of OEI and partnering organizations. She's excited for the South Bay expansion of the program as well! In addition to OEI, and in navigating life, Veronica seeks to help make the world a better place that thrives and continuously tries to reflect on how to best do so.
Through her work as an outdoor educator leading hiking trips and singing songs with youth for Bay Area organizations like Slide Ranch and Hidden Villa, to getting elementary students' hands dirty and learning about science through their outdoor garden classroom with Education Outside, to maintaining a public garden space as a source of inspiration and habitat for animal populations with Gamble Garden, Veronica hopes to build and be part of communities that challenge each other to grow, learn, take action in doing and speaking up for what they love, inspire each other, and be earth ambassadors.
In addition to her work, Veronica continues to learn and be active in understanding the intersectionality of her hobbies, passions, and beliefs. She loves being in the outdoors, gardening, zero waste practices, self care and self reflection, music, and pro-liberation actions which include being a practicing vegan and anti-capitalist.