"Reflecting back on 2019, I feel both humbled and hopeful by how far Justice Outside has come in working to create a truly inclusive outdoor movement. We made significant strides over the past year to expand our reach and impact. We fostered new partnerships, strengthened long-standing ones, and continued to center our efforts on advancing racial equity in the environmental field, especially among organizations and programs engaging youth."
On behalf of our staff and board, I am proud to share Justice Outside's 2019 Impact Report.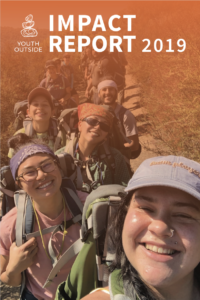 Here are some quick highlights, by the numbers:
Over 11,000 youth from communities historically underrepresented in the outdoors accessed meaningful outdoor experiences as a result of Justice Outside grants.
Our training and support impacted environmental work in 25 states.
95% of participants stated that the Outdoor Educators Institute strengthened their connection to the outdoors.
I invite you to dive into our report and learn more about our accomplishments and impact in 2019.
As we continue to navigate these challenging and unprecedented times, Justice Outside remains committed to fostering an environmental movement rooted in racial equity, access, and inclusion. In spite of the disconcerting circumstances, we're moving forward with our core programming, recognizing that we'll need to be flexible as the situation surrounding the COVID-19 pandemic evolves. We remain hopeful about offering the first ever Fresno cohort of the Outdoor Educators Institute this summer. I encourage you to learn more about the expansion of this program and share word of the application process to young adults in your network who are interested in pursuing careers in outdoor education.
From everyone at Justice Outside, a heartfelt thank you for believing in and supporting our work. We're looking forward to many more successes in 2020 and beyond.
For now, we send our best wishes to everyone affected by COVID-19, and wish you all health and safety in the days ahead.
In community,

Kim Moore Bailey
CEO