"It's taken us a few months to make sense of the whirlwind that was 2020. Existing within the parallel pandemics of COVID-19 and relentless anti-Black state violence is no small feat. We know neither of these crises are close to resolved today, but we're hopeful that progressive public health policy and a robust movement for police accountability are steering us in the right direction.

Against a backdrop of increased urgency around recognizing and dismantling systemic racism, the need and demand for our work has proven greater than ever. Accordingly, 2020 saw us more boldly embrace our unique role as an organization modeling and advancing racial justice in the outdoor movement, and we are so humbled by the resounding encouragement we've received from our community."
On behalf of our staff and board, I'm proud to share Justice Outside's 2020 Impact Report.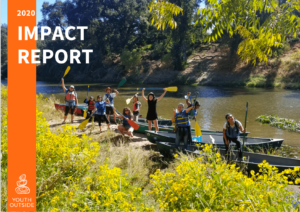 Here are just a few highlights:
Outdoor Educators Institute continued to expand in spite of the pandemic, adopting a hybrid in-person/virtual format for three concurrent cohorts last fall, including our first ever cohort in the Central Valley, made possible through a partnership with Fresno Building Healthy Communities.
With the generous support of the William and Flora Hewlett Foundation, the David and Lucile Packard Foundation, and The North Face, we launched Liberated Paths, our new national grantmaking program aimed at building a more racially just and sustainable outdoor movement, funding our inaugural cohort of 17 organizations and programs in Arizona, New Mexico, Oregon, and Washington.
Through articles, interviews, and presentations at multiple conferences, our leadership team consistently contributed critical perspectives to help shape the evolving conversation on how the outdoor sector can and must dismantle practices that codify inequity in the field, and do better by Black, Indigenous, and People of Color.
Despite the hurdles and heartbreak of 2020, our dedication to building a more racially just outdoor movement has only been further solidified. I hope you'll take a moment to read about some of our successes, which we believe have laid the groundwork for an even more impactful 2021.
In gratitude and community,

Kim Moore Bailey
CEO