Director of Learning and Evaluation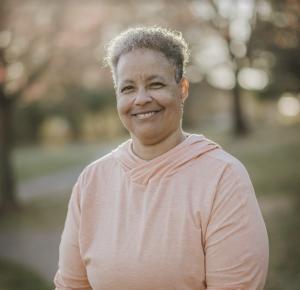 Elizabeth Allen, MA (She/Her) is the Director of Learning and Evaluation for Justice outside. She brings over 25 years of experience in children's behavioral health and 15 years of experience developing staff and student interns in the non-profit, youth based sector.
Growing up in predominantly white spaces, Elizabeth is keenly aware of the lack of known diversity outdoors and has been advocating for, and creating opportunities for BIPOC and other under-represented humans in nature. She has presented on the subjects of inclusion and belonging at conferences and taken part in several panel discussions regarding creating diverse spaces and increasing safety and equity in the outdoors.
Prior to joining Justice Outside, Elizabeth was the Associate Director of Organizational Development, Training & Culture at Valley Youth House, a non-profit serving youth, young adults and families in 14 counties in Pennsylvania. She is a member of the Board of Directors for the Pennsylvania Interscholastic Cycling Association and acts as their Diversity, Equity, Inclusion and Belonging consultant.
A lover of the outdoors, Elizabeth enjoys cycling, hiking, paddleboarding and photography. When not outside, she can be found listening to a good podcast (not true crime, that stuff is weird), reading, editing nature based videos, learning all sorts of useless information, traveling and trying to maintain her status as the "Cool Auntie."
To contact Elizabeth, send her an email at elizabeth@justiceoutside.org.