Development Manager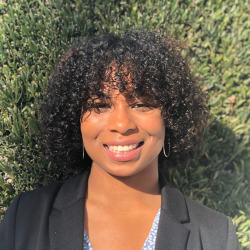 As Justice Outside's Development Manager, Geenah (she/her) provides support to corporate and individual donor engagement strategies as well as fundraising events.
Geenah was born and raised in the city of Los Angeles. Her parents, who had immigrated from their native country of Jamaica, brought her up to believe that she should never allow her gender or the color of her skin to deter her from pursuing her wildest dreams. They would often find her outside, climbing trees, tending to her pets, and pondering the wonders of the environment.
Geenah took her fascination with wildlife conservation with her to Cal Poly Pomona, where she studied Biology with an emphasis in zoology and environmental science. During her studies, she also became aware of the environmental injustices surrounding underrepresented populations. Upon graduating, she decided she would use her voice to speak on the need for the implementation of sustainable and just policies in vulnerable communities.
Geenah has spent the past few years of her professional career devoted to animal rescue. She grew especially committed to community engagement in her work with the South LA community at Stray Cat Alliance. There she worked to help empower residents to have an impact on their community animals through education and resources.
Geenah continues to have a wonder for the outdoors and enjoys hiking and snorkeling. On her off days you can find her reading at a local bookstore, eating shrimp tacos, or lounging about with her cat, Lord Voldemort.
To contact Geenah, send her an email at geenah@justiceoutside.org.