Chief Program Officer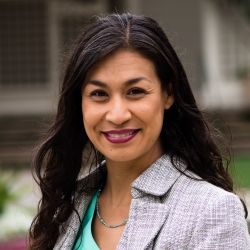 Laura Rodriguez (she/her) is driven by a commitment to access, inclusion, and community empowerment. For over 14 years, Laura's career has centered on supporting communities in gaining access to healthcare, social  services, education, and most recently, access to the outdoors. As Chief Program Officer for Justice Outside, Laura is guided by her values of equity and inclusion, which inform the relationships she maintains and the programs she designs and implements. Her passion for the outdoors is matched by her desire to effect change within the outdoor field; and to this end, she approaches the work of racial equity, inclusion, and cultural relevancy with resolve, authenticity, and empathy.
Prior to joining Justice Outside, Laura was a Program Manager for the SEIU UHW West and Joint Employer Education Fund, a non-profit that offers training and education for healthcare workers. Her ability to connect with stakeholders of all levels makes Laura a valuable team member.
To contact Laura, send her an email at laura@justiceoutside.org.