2018 OEI Participant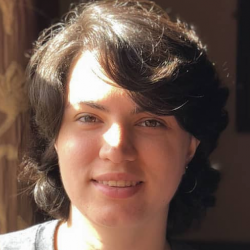 Laura is a current senior at San Francisco State University working towards a Bachelors degree in Recreation, Parks & Tourism. Laura's love of the outdoors was sparked at a young age when her mother would take her, her cousins, and her younger brother out to explore California's wonderful wilderness. She also has a great love for supporting her community. In high school, she completed over 2,000 hours of community service for organizations like Toys for Tots, anti-bullying campaigns, and wilderness clean up. Her passion, spirit, and determination is what keeps her going, and supporting and giving back to her community in any way that she can. She continues to volunteer at a local San Francisco hostel and occasionally helps out at Camp Krem bring people with disabilities out into nature to recreate.
It wasn't until a year and a half ago that she knew she wanted to help youth get outside and understand, love, and appreciate nature the same way she does. Laura is hoping that the Outdoor Educators Institute will provide her the resources she needs in order to be more inclusive of all different kinds of people that come into nature and help them develop their own love and understanding for it. She is also looking to challenge herself to new experiences so that way she can be brave for others when they are scared and inspire them to take healthy risks.