San Francisco / Oakland cohort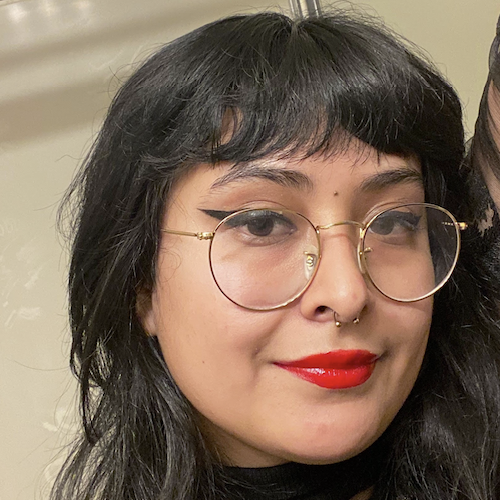 Alicia De Jesus Gaitan (she/they). I was born and raised in the Bay Area. I was a Girls Inc. of Alameda County participant for 12 years. Girls Inc. programming helped develop my interest in the outdoors, social justice, and community engagement.
I earned my Bachelor's degree in Studio Arts and Anthropology/Sociology from Kalamazoo College in MI. As a painter, I'm interested in the spatial, materiality, and the boundaries between painting and other mediums. My paintings are often minimal, textural, exhibited in unusual ways, made using non-traditional materials (caulk, grommets, zip ties, etc.).
When it comes to Anthropology/Sociology, I'm interested in human and non-human relationships. How human and non-human lives are entangled in mutually beneficial or destructive ways. What we can learn from interspecies relationships. What collaborative, interspecies survival looks like amid continuing environmental destruction.
Currently I'm enrolled in a Museum and Gallery Studies program. It's something I became passionate about when I learned about, and designed participatory exhibits for an Art History class in college. I believe participatory museum exhibits can be effective tools for facilitating profound engagement, experiences, and sense of community within cultural institutions. I'm fascinated with the role outdoor education and experiences can play in participatory encounters. Basically, how museums can develop and maintain relationships with the outdoors in mutually beneficial ways, and strengthen a community's relationship to cultural institutions and the outdoors.
During my free time, I enjoy roller skating, making art, and listening to music. Strawberry Switchblade and Kate Bush are currently my favorite musicians!