San Francisco / Oakland cohort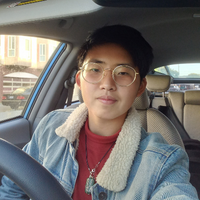 Hello y'all!
My name is Sonemani Bitna i'm Queer, Lao and Korean. My love for the outdoors comes from the peace it gave me as a little Queer in the south. How it reminded me that this world is large and that I get to choose what matters to me. I hope that with this experience and new found community that we continue to create space in outdoor places for QTPOC folks reconnecting or strengthening their bond with the Earth. I ideally want nothing more than endless evenings with community, tea, movement through martial arts, and books on an off grid commune where we dream up new ways to create space in a world that is so incredibly suffocating. I do believe there is power in space and in demanding we create space in the face of certainty, to build or
even just try something new. It is an incredible excitement and honor to discover what that can look like with all of you!