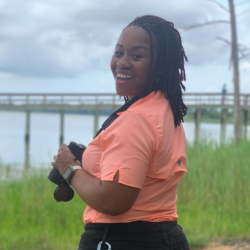 Nakiesha Bridgers currently works as a Recreation Programs Specialist (Outdoor Programs) for the City of Suffolk Parks and Recreation department. Prior to this position, Bridgers was the Recreation Specialist II over Outdoor Programs for the City of Chesapeake. She has previously worked as a Biology and Earth Science teacher at Chatham High School.
Bridgers received her undergraduate degree in Biology from Virginia State University in 2007. She then worked as a wildlife graduate research assistant for Virginia Tech for 3 years studying bog turtles' reproductive and nesting ecology.
Nakiesha's hobbies include camping, kayaking, biking, weight training, gardening, and just overall exploring nature and parks.