As part of honoring Asian American Pacific Islander (AAPI) Heritage Month, we're pleased to share a guest post from Yvan Tran about Tammy Pham, both members of Outdoor Asian. Their conversation speaks to the highs and lows in getting outdoors as womxn of color and the role of community and mentorship in the process. Outdoor Asian Washington provides opportunities for Asian & Pacific Islanders and other communities of color to connect with the natural world through celebrating land, oceans, coasts, and culture. They are one of our inaugural Liberated Paths grantees.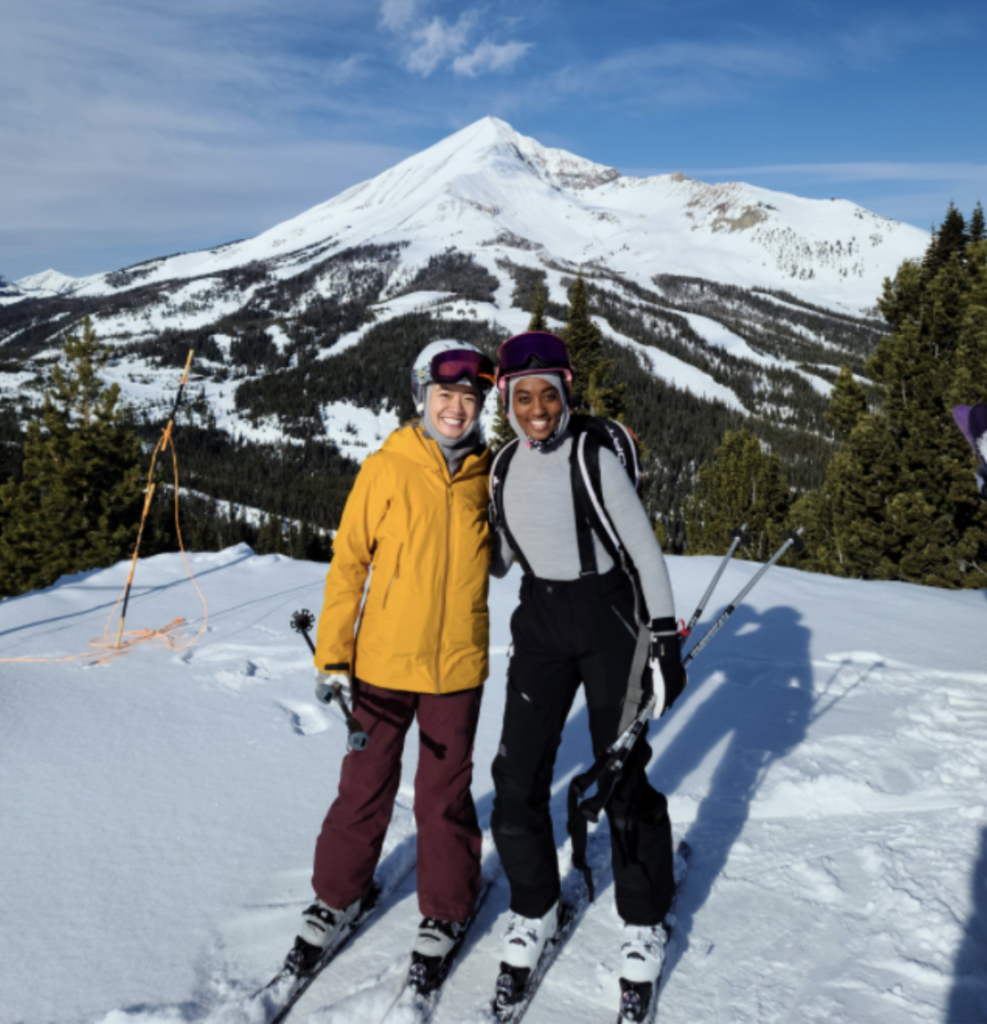 Tammy Pham is a member of Outdoor Asian, as well as a Leave No Trace (LNT) trained and Wilderness First Responder (WFR) certified climbing and ski instructor, all at the age of 25.
While she is a Program Manager by day, this job helps fund her ultimate dream – to get the International Federation Mountain Guides Association (IFMGA) certification. It's a "triple threat dream," she said, because this is the highest level of certification in three disciplines: rock climbing, alpine climbing, and ski mountaineering. Only a handful of womxn are IFMGA certified, with an even smaller number of BIPOC womxn certified.
She completed and passed her Professional Ski Instructors of America (PSIA) Level 1 Ski Instructor Exam earlier this year, in Bozeman, Montana, despite this being her first winter.
"The prerequisite was that individuals must be able to ski the blue slopes 'confidently,' and I wasn't sure what 'confidently' meant, but I said sure!" It was only over a year ago that Tammy relocated from Georgia, where she did not have much exposure to snow sports, to Washington.
Growing up near Stone Mountain, home of the largest Confederate Monument in the United States, it was not uncommon for Tammy and her family to get funny looks in the outdoor space as Asian Americans. It was not until her early teenage years that she started actively being outdoors, when her dad got into mountain biking and encouraged Tammy to join him.
"He enjoyed how much opportunity there was to outdoor recreation, from staying fit and healthy to networking and making new friends. But I hated mountain biking," she said. Instead, she started trail running to "run after him." This new activity led her to compete in marathons across the country.
Then, five years ago, she picked up a new activity: climbing. Tammy got inspired to climb when visiting Seattle, where she now resides. She started out by looking for climbing buddies, support, and mentorship on Facebook, which initially proved difficult. Either these individuals did not have time, were not good teachers, or just wanted to flirt with her. "Being successful depends on great mentorship," Tammy said. "Especially as BIPOC, we have faced more unconscious bias in the outdoor setting."
An example of this was when she assisted in a climbing course with a male co-instructor. Course participants would always go to the male instructor to ask questions, even though Tammy also delivered the course curriculum. Another troubling dynamic involved tipping; participants were encouraged to give 20% tips, but oftentimes, she would only get a $20 tip for a $350 two-day trip.
As a womxn of color and an adult learner, she sometimes feels like she is weighing down the group. As a result, feelings of embarrassment or failure are more amplified for her, especially when her friends would ask her, "Are you sure you want to do this?" at the slopes. Those doubts made her wonder whether she was subconsciously reinforcing the stereotype that "Asian womxn can't climb."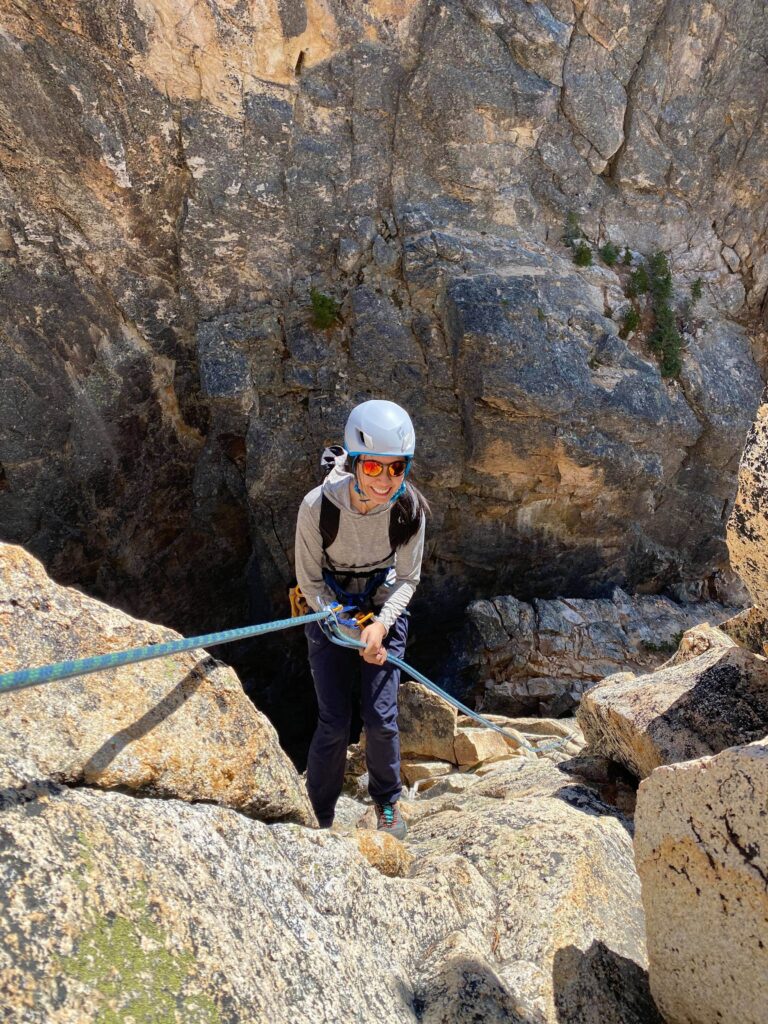 "I have learned to ski from white men, and I get so burnt out because when I am alone, no one wants to talk to me until I approach them. They are surprised that I am actually an American who speaks English."
It was not until her PSIA exam that Tammy felt empowered and encouraged to be involved in the outdoors. She did her exam with Women of Winter, an organization advocating for womxn to participate in snowsports. She eagerly mentions how her group of all Asian, Black, and Latinx womxn definitely turned heads on the slopes. From often being a solo Asian womxn on the black diamond slopes, seeing such great diversity deeply motivated Tammy to pass the exam.
"Throughout my all-womxn PSIA exam, I felt assured that my involvement in snowsports would make a big impact in my local community. The womxn I met on the course were not only talented future ski instructors but were successful in running their own businesses and non-profits too. I think it is our responsibility in instruction and guiding to bring new faces to the sport, as well as to connect them to the mentors and groups that they need to thrive."
For the young BIPOC womxn who want to pursue outdoor recreation, Tammy encourages all to use social media, a great platform to connect. "We do exist!" she exclaims. "If you see somebody who 'looks like you' on the trail, do not hesitate to reach out and say hi."
For those who are active professionals, like Tammy, she encourages you to get involved with teaching, volunteering, and even going into full certification if possible.
"I have experienced many challenges to get as far as I have come. Especially in climbing, the outdoors gives me space to take risks, take space, and the overall opportunity to be a more compassionate human being and better leader."